Chamberlain and Genie are two of the most popular brands when choosing a garage door opener.
Each brand has its unique features and benefits that make it stand out from the rest. In this blog, we will compare Chamberlain vs Genie garage door openers based on various factors, such as Wi-Fi compatibility, safety and security, installation system, durability, and price.
By the end of this article, you will be able to determine which brand is better suited for your specific needs and preferences.
Let's explore the differences between these two leading garage door opener brands.
Chamberlain Garage Door Openers
Chamberlain is a leading garage door opener industry brand. The company is known for providing innovative and reliable products. Having been around for 75 years, Chamberlain has established itself as one of the trusted brands in the market.
The company offers a variety of garage door openers, which include chain drive, belt drive, as well as wall-mount openers.
Their myQ smart technology gives customers excellent access to innovative products with efficiency and reliability, enabling them to safely navigate their garages, homes, businesses, communities, and storage facilities.    
Chamberlain is one of the leading providers of access control products, including Chamberlain garage door openers. Their wide range of innovative products allows customers to take advantage of their property's premium safety and security features, convenience, and improved aesthetics. 
Genie Garage Door Openers
Established in 1923 as the Alliance Manufacturing Company, it was a dynamic producer of multiple goods and services ranging from consumer to military-grade items. During the war-torn 1940s, Alliance factory churned out various goods – from fuse caps and voltage regulators to canteen handles and generators. These products kept America armed and ready for battle on every front.
Fifty-plus years later, Genie Garage Door Openers have become one of the most recognizable brands on the market today. Their lineup of openers is designed to provide maximum convenience, reliability, and safety.
Genie's unparalleled customer service towards homeowners, dealers, and retailers sets them apart from the rest of their competition in this sector.    
Connect With A Garage Expert
Connect with local experts, Compare quotes, Get the best price.
Chamberlain Vs Genie Garage Door Opener: Which Is Better?
When it comes to the best garage door opener, homeowners are faced with a tough decision between Chamberlain and Genie. These brands offer various features ideal for novice and experienced users.
Chamberlain offers easy installation and Wi-Fi connectivity, making it suitable for those looking to keep their home automated. Additionally, their Quiet Drive technology eliminates the sound of opening and closing the door.
On the other hand, Genie models come equipped with LED lighting and remote access capabilities using the Aladdin Connect app. In terms of security, Genie takes the frontline thanks to its Security+2.0 technology, which allows for motion detection without disrupting nearby areas.
Here is the difference in specifications between the two brands.
| | | |
| --- | --- | --- |
| Specifications | Chamberlain | Genie |
| Wi-Fi Compatibility | Built-in Wi-Fi | Wi-Fi connectivity is available for the following series: Connected ProSeries Model 2128, Reliag ProSeries Model 3120, and Connected ProSeries Model 4124.  |
| Safety & Security | Safety Sensors | T-Beam & Intellicode Security System |
| Battery Backup | Built-in Battery | Integrated battery backup |
| Installation System | Easy to Install | Wi-Fi connectivity is available for the following series: Connected ProSeries Model 2128,Reliag ProSeries Model 3120, and Connected ProSeries Model 4124.  |
| Drive Type | Belt, chain, and direct | Screw drive, chain drive, belt drive |
| Maximum Door Height | Up to 10ft | Up to 14ft |
| Durability | Durable | Durable |
| Price | $200 to $350 | $150 to $250 |
Let's compare features between the two brands to see which one stands out.
Strength
Regarding tough garage door openers, both brands provide reliable options. However, Chamberlain stands out from the competition by providing a level of durability that is unparalleled. This is due to the heavy-duty materials used in its construction, and the average lifespan of a Chamberlain garage door opener is 15 – 20  years.
Genie door openers can also provide reliable operation for up to a decade. You should keep the moving parts lubricated and balance your garage door correctly – this is crucial in ensuring the maximum lifespan of your opener.
Overall Sound
Chamberlain's opener system quietly delivers exceptional sound quality thanks to its well-engineered gear design and superior materials.
Conversely, Genie generates a clicking sound that is louder than Chamberlain. While this may be no big deal to some people, it should still be considered when deciding.
Sturdiness
In terms of sturdiness, Chamberlain once again stands out from its competition. Their opener systems are known for being one of the strongest and most reliable in the market. This is because each system is designed with a reinforced steel-reinforced belt, making it incredibly tough and capable of handling the most intensive applications.
They can withstand various weather conditions and remain unaffected by strong winds or harsh climates.
On the other hand, Genie is less powerful and may not be suitable in areas with extreme weather conditions. This is because Genie does not feature reinforced steel belt technology, making it susceptible to wear and tear. When it comes to installation, Chamberlain is the clear winner.
Practicality
Practicality is another factor to consider when deciding between Chamberlain and Genie garage door openers.
Chamberlain offers several practical solutions, such as Smart Garage technology, which allows users to control their garage doors from virtually any smartphone device.
They also feature advanced features like motion-sensing LED lights for added security, auto-lock mechanisms for easy closing and opening, belt drive, chain drive, and battery backup.
Genie also takes the practical lead by offering universal compatibility with various home automation systems.
Additionally, they have pre-programmed remote controls, a multi-function wall console, and a wireless keypad.
Wi-Fi Compatibility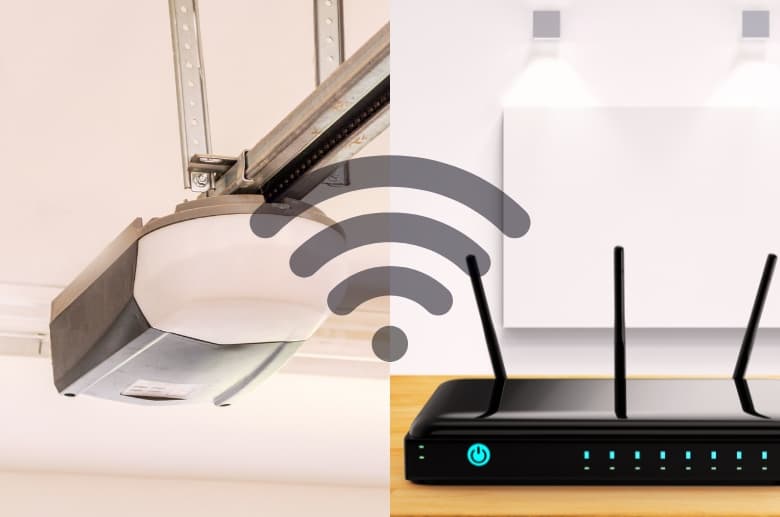 Enjoy the convenience of controlling your Chamberlain garage door opener from your smartphone with its built-in Wi-Fi system. You can open and close the door remotely if both devices are connected to the same network.
With Genie, you won't waste time downloading an app or wrestling with complicated setup procedures; it offers a smooth user experience without additional control systems.
By contrast, there is no built-in Wi-Fi system included in the package either. The Aladdin Connect smart control system allows you to conveniently manage your automatic garage door from anywhere.
Weight Lifting Capacity
The Chamberlain garage door opener can lift up to 750 pounds, which is more than enough for heavy residential doors.
Opening and Closing Speed
On average, Chamberlain garage door openers can shift at a rate of seven inches per second, roughly 12 to 15 seconds for the entire opening or closing process. Something could be amiss if your garage door suddenly becomes sluggish or exceptionally speedy.
Moreover, Genie garage door openers are designed with multiple speeds in mind, ranging from a speedy 6 inches to an even faster 12 inches per second. For those seeking swift and reliable garage door operation, the Genie TriloG 1500 is your best bet – it opens twice as fast as most other products on the market.
Nevertheless, Chamberlain and Genie offer great opening speed and power performance. Which one you opt for depends on your opening and closing speed preferences.
Battery Backup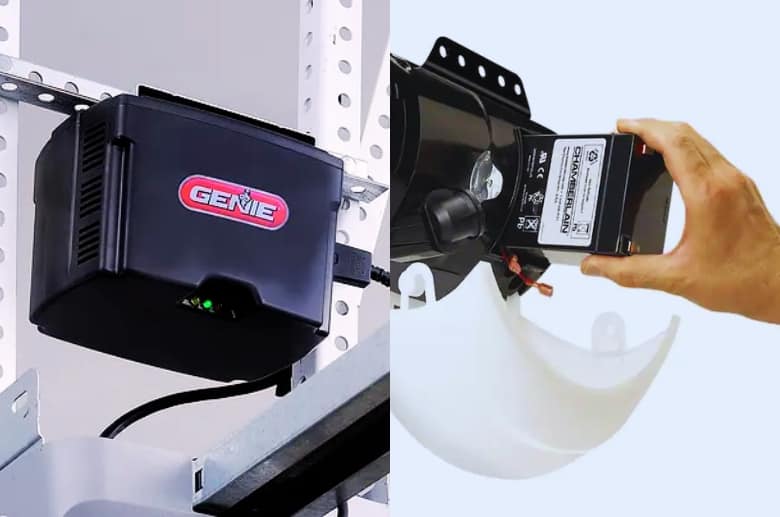 Chamberlain garage doors come with an in-built battery backup, which means you can operate the door even when the power goes out. However, for optimal longevity and function, it is recommended to disconnect the battery from the garage door opener when going away for an extended period.
Doing so will ensure maximum battery life – typically 1-2 years, even with regular use. Chamberlain emphasizes exclusively using OEM batteries that the company creates.
Genie garage door openers also come with integrated battery backup. What was once deemed a luxury has become an accessible comfort to everyone with Genie's battery backup solutions.
If the power goes out, Genie's battery backup makes it a breeze to enter and exit your garage quickly if you have a Genie 140V garage door opener.
Maintenance
Chamberlain opener models typically require an annual professional tune-up. The Chamberlain garage door opener cost involves a thorough inspection, lubrication of parts, and greasing of the trolley and other moving parts.
The average maintenance cost is between $50-$300, depending on your region and the type of service you are looking for.
The same applies to Genie garage door openers. Genie garage door opener maintenance costs typically include lubricating moving parts, adjusting the door balance, and checking if all connections are secure.
Connect With A Garage Expert
Connect with local experts, Compare quotes, Get the best price.
Opener Lifespan
Chamberlain garage door openers provide a more extended life expectancy ranging from 15 to 20 years due to the superior quality components used in their production.
Furthermore, Chamberlain garage door openers boast an advanced level of safety due to built-in sensors that detect objects in the path of the closing door and prevent it from crushing them.
In addition, Genie garage door openers can last between 10 and 15 years. However, maintenance and frequency of use will undoubtedly determine the longevity of your garage door opener in the long run.
Price
In terms of cost, Chamberlain is undoubtedly a bit more expensive than Genie. All things considered, though, this premium electric garage door opener is worth it – made with superior-grade materials for unbeatable quality and durability.
These devices boast the strength to manage even the bulkiest and most robust garage doors effortlessly. Not only can you use them for residential garages but also commercial and office garages.
These durable structures provide plenty of space with thicker doors that withstand various conditions. Thanks to its extreme load capacity, the Chamberlain door opener is renowned for its dependability.
Design
Many appreciate Chamberlain's attractive and distinctive design, which is larger and better crafted than its competitors.
Despite its ease of use, the Genie garage door opener has yet to be widely embraced by consumers. It presents a sleek and modern look but often needs to improve performance. On the plus side, it is smaller, lighter, and requires less effort to install.
Installation
Installing a Chamberlain unit is as straightforward as it gets. It has almost all its parts pre-assembled, so you must follow the instructions and flash the device – no tedious wiring is needed.
On the other hand, installing Genie can be tricky. With that being said, it's not something to worry about! If you follow the installation guide correctly and use basic techniques, successfully setting up Genie will be pretty effortless.
Are Garage Door Openers from Chamberlain and Genie Interchangeable?
Fortunately, the answer to this question is yes! You can purchase universal receivers to pick up the signal from Chamberlain and Genie remotes.
Buying a compatible universal receiver means you don't have to think twice about what brand your remote needs to be because it will all depend on the receiver you are using in combination with your existing opener motor.
This makes shopping for replacement parts much easier, as you don't have to worry about compatibility.
Chamberlain Vs Genie Garage Door Opener: The Winner
It is always hard to decide between two products that offer almost the same features, but we'll do so for your sake. Chamberlains typically come with innovative features and quiet operation, while Genie provides value for money with robust functionality.
However, many Chamberlain models can be integrated into home automation systems, while Genie's features may need to provide more compatibility to benefit from such a setup.
Ultimately, though, the choice between these two comes down to personal preference as both products offer great performance in their respective categories.
As a buyer, you should carefully consider your needs before purchasing if you're looking for a garage door opener that fits specific requirements.
FAQs
What is the most reliable garage door opener?
Well, it depends on what you prioritize. Do you prefer a high-powered opener with impressive horsepower, or do you want something a little quieter? Do you need an opener with extra features, or are you looking for one that's ultra-affordable? 
It's important to ask yourself such questions and refer to this guide when deciding between Chamberlain vs Genie garage door openers.
Is Chamberlain a good garage opener?
In short, yes. Chamberlain garage door openers are well-known for their power and performance, featuring impressive horsepower and the ability to lift even heavy garage doors easily.
Additionally, Chamberlain is highly rated for its quiet operation technology and range of features, such as MyQ compatibility, allowing you to control your opener from anywhere using an app.