Nowadays, you can find garage doors that come in a variety of designs and materials and are working on various mechanisms. Such diversity in options makes it difficult for homeowners to choose the best type of garage door.
This article walks you through different types of garage doors based on material, style, mechanism, and configuration. It also explains how you can choose the best garage door according to your needs.
Types of Garage Doors By Material
When choosing a garage door, homeowners should consider factors such as climate, budget, and the aesthetic of their home. They should also consider the door's durability, ease of maintenance, and insulation. Based on these factors, they can choose the best garage door for their needs.
Wood
Wooden garage doors provide a wide range of customization options. Homeowners with an acute aesthetic sense can benefit from its variety of designs and wood types, such as fir, cedar, Lauan plywood, and redwood. Also, wood is renewable, so if you care about eco-friendliness, prefer wood over other materials for garage doors.
Wooden garage doors, like other wooden items, have this elegant feel that no other material offers. However, with such unique, timeless elegance comes a high upfront cost along with a high cost of maintenance.
While the doors are manufactured with layers and plies to prevent wrapping, constant exposure to rainwater or snow will destroy them. If water penetrates a wooden garage door, it expands and starts to wrap. So, garage doors made of wood are best suited for mild climates with little rain and snow.
Wooden garage doors require regular maintenance to preserve their beauty. A wooden garage door begins to chip, rot, warp, or fade without it.
Steel
Steel garage doors are durable, easy to customize, and require little maintenance. All these qualities and their reasonable price make steel garage doors quite popular among homeowners.
Since steel garage doors have such high demand, there's a wide range of options available on the market in terms of insulation options, thickness, designs, colors, and more. Speaking of thicknesses, steel comes in gauges: the lower the gauge number, the thicker the steel.
The 24 gauge steel (.020″) is best for residential garage doors. However, 25-26 gauge steel is used for mid-level garage doors, while 27-28 gauge steel is more common for cheaper garage doors.
The 24 gauge steel garage doors are thicker and costlier but offer better durability and insulation. Homeowners can choose insulated steel garage doors. These garage doors contain insulating material (polyurethane or polystyrene) put between layers of galvanized steel for better insulation.
You can paint the surface of steel garage doors to match your home aesthetic or to mimic wood or other materials.
Aluminum
Another popular choice, especially for contemporary homes, is aluminum. Aluminum garage doors are similar to steel garage doors in terms of variety, price, and maintenance. But they're not as durable because aluminum is lighter and dents easily.
Garage doors made from aluminum come with glass panels that bring in the sunlight and provide a uniquely modern aesthetic. And even though aluminum doesn't offer much insulation, you can get the glass panels insulated.

Aluminum Composite
In addition to standard aluminum doors, there is also the premium choice of aluminum composite garage doors. Composed of a core of insulating material sandwiched between two sheets of aluminum, these doors are significantly more durable than their single-layered counterparts. They combine the aesthetic appeal and corrosion resistance of aluminum with increased structural strength and thermal efficiency.

Aluminum composite garage doors similarly offer the option for insulated or decorative panels. These panels can be tailored to your specific requirements and preferences, allowing for a balance of aesthetics and function and bringing a new edge to the modernity of your home.
Thanks to aluminum's resistance to rust and corrosion, these garage doors are especially ideal for tropical regions with frequent rains. Whether you choose standard aluminum or the sturdier aluminum composite, both options offer an appealing blend of style, strength, and resilience.
Fiberglass (GRP)
Glass Reinforced Polyester (GRP) or fiberglass is created by reinforcing glass fibers with polyester. The end product is a strong material with a higher strength-to-weight ratio (1,307 kN m/kg) than steel (63.1 kN m/kg). So it's fair to say that fiberglass garage doors are secure.
Fiberglass is a cheaper alternative to wood, as it replicates the natural textures and aesthetic appeal of wood without the high upfront and maintenance costs. These garage doors are also cost-effective, customizable, and eco-friendly.
Unlike metals, GRP has an insulating effect which is why fiberglass garage doors keep your garage cool when the outside temperature is high.
Fiberglass doesn't get rusted, bent, or shrink, making these garage doors quite durable. Damages are easier to repair and don't leave any noticeable traces.
Homeowners in coastal regions prefer GRP garage doors because of their saltwater resistance. But, like any other product, direct sunlight will fade its natural color over time.
Vinyl
Vinyl is another excellent choice for homeowners that live in coastal regions because vinyl garage doors are resistant to rust, salt water, and humidity.
These garage doors are surprisingly sturdier than steel and more resistant to damage. Scratch or scuff marks on vinyl garage doors are not noticeable. Garage doors made from vinyl are low-maintenance and require you to wash them with soap and water now and then.
Like steel, these garage doors have a sleek look and come with customizable panel designs. But they come in limited colors, mainly shades of white and beige. If you want bolder colors on your garage doors, you'll need to use another material, as repainting vinyl garage doors isn't recommended. But if you do, only choose a paint designed for vinyl.
Unlike wood, vinyl isn't naturally insulating. But you can get vinyl garage doors having insulating materials packed within the panels.
While these garage doors are costlier than steel ones, they provide better durability, rust resistance, and dent resistance. So it's a cheaper option in the longer run.
Wood Composite
Homeowners who desire the traditional aesthetic look of a wooden garage door without breaking the bank can purchase a wood composite garage door.
You can paint or stain wood composite garage doors. But, unlike wooden doors, they don't require frequent touch-ups to retain their elegance.
Wood composites are created by combining wood fibers with plastic using glue or other binding agents, making them quite dense and strong. Unlike wood, these garage doors won't rot or get infested with insects. They're also resistant to harsh weather, heat, and humidity, so they have better longevity than wood.
Since wood composites are not real wood, these garage doors won't be as heavy or provide as much security as wooden doors. Wood composites give the semblance of wood at a fraction of the price, but you won't get the natural feel.
In short, wood composite garage doors are low-maintenance and offer a balance of cost-effectiveness, durability, and aesthetic appeal.
Glass
Glass garage doors are rising in popularity due to their sophisticated look and ability to stand out. These garage doors complement modern architecture and aesthetics.
Unlike other garage door materials, glass doesn't require paint. Thus eliminating the need for repainting every few years. A simple wash with water and soap is all you need to maintain its elegance over time.
Additionally, Glass garage doors also allow for natural light to enter your garage, making it brighter and easier to work in.
However, a major setback for glass garage doors is their need for insulation. The door frame is made of aluminum with an R-value of 3.125 – 4.06. While insulation can be added to other types of garage doors (e.g., steel garage doors), it's not possible with glass garage doors since glass is not hollow.
You can install insulated glass to improve its insulation, but it'll cost a lot more.
Homeowners usually have two main concerns with glass garage doors: safety and privacy. The truth is that glass garage doors are quite safe. Glass garage doors come with tempered glass that is 5 times stronger than standard glass and prevents theft and burglary. As for privacy, several glass types, such as tinted or frosted, allow light to enter while preventing others from looking inside.
If you plan on replacing your old garage door with a glass garage door, consider that you might need to upgrade your garage opener since glass garage doors are heavier than several other garage door types.
Connect With A Garage Expert
Connect with local experts, Compare quotes, Get the best price.
Types of Garage Doors By Design
When it comes to garage door design, it's important to consider the overall aesthetic of your home. The right design can enhance the exterior look and increase the value of your home, while the wrong design can lead to an unappealing appearance.
Traditional
One popular option is traditional garage doors, Which offer a vintage aesthetic and come in raised rectangular panels that can be customized to fit different home designs. Garage doors with a traditional look can fit well within different home designs, making them quite popular.
Modern/Contemporary
Modern and contemporary designs also come in a variety of options. The most unique is the glass garage door that stands out from the rest, provides an elegant look, and lights up the garage with natural sunlight.
Other designs include lightweight aluminum garage doors with an elegant look and sleek finish. Low maintenance and durable wood composite garage doors and insulated steel garage doors.
Carriage Style
Carriage-style garage doors, inspired by old carriage houses, offer a traditional charm to your home. Made from wood or steel, these types of garage doors provide durability. You can also add insulation to carriage-style garage doors.
Craftsman
A craftsman-style garage door combines traditional architecture with a modern aesthetic. This results in an elegant design that can enhance the looks of a wide variety of homes.
Rustic
Rustic-style garage doors offer a natural/outdoor look and come in neutral colors such as light browns or moss greens. Wood is the obvious choice of material for rustic garage doors.
Since rustic garage doors are typically made of real wood, They can become quite expensive and require high maintenance.
Types of Garage Doors By Mechanism
Garage doors can be categorized based on their opening mechanism. It's an important categorization as different opening mechanisms offer different sorts of functionality. Let's see how the different garage door opening mechanisms work and which one best fits your needs:
Roll-Up Garage Doors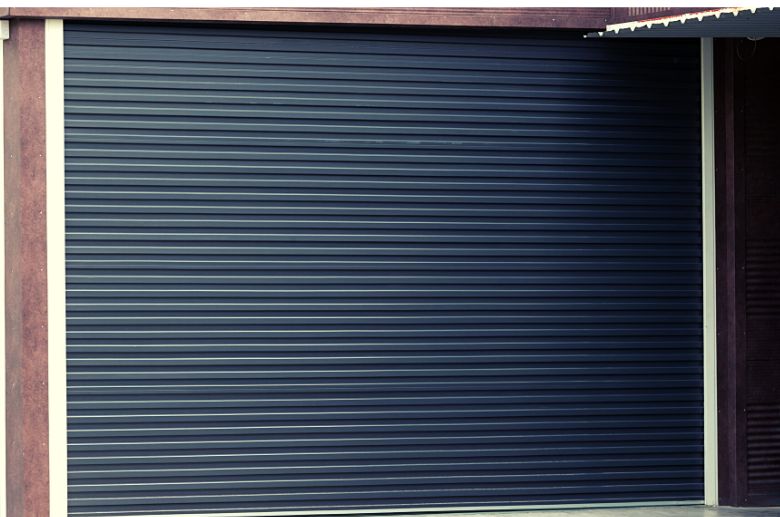 Roll-up or roller garage doors, as the name suggests, lift by rolling into a rectangular container above the garage opening. Since these doors don't swing out, they don't need external space to open. So you can benefit a lot from roller garage doors if you have limited overhead space.
You'll mostly see them in commercial garages and warehouses as they are built for frequent use. They also take up less space inside the garage, making them great for smaller garages.
These doors are usually made of aluminum or steel and can be manual or automatic. Automatic ones come with a remote and open smoothly with just a push of a button. And if you want more security, features such as threat alarms are also available.
These garage doors fit well with garages of different shapes and sizes, but they only come in Horizontal Ribs design.
Tilt-Up Garage Doors
Popular in the US and the UK, the tilt-up garage door comes with a single-piece panel that tilts up into the garage. These garage doors are secure and easy to operate. They come in a wide range of styles and materials (e.g., timber, steel, GRP, etc.)
The tilt-up garage doors come in two designs:
Tilt-Up Canopy Garage Doors
When open, the canopy garage door faces the ceiling and extends into the front of your home. This garage door type is suitable for manual operation and garage door entrances less than 8 ft wide.
Tilt-Up Retractable Garage Doors
Like the canopy tilt-up garage doors, the retractable garage doors open by lifting up and into the garage. The difference between the two is that the retractable garage doors don't extend into the front of the house.
Retractable garage doors are best suited for automation and garage door entrances that are wider than 8 ft.
Sectional Garage Doors
Sectional garage doors, popular in the US, open vertically and hinge along the garage ceiling. Another term for these is overhead garage doors because they go over your head when you open them. Such an opening mechanism provides a full clearance of the garage opening in most cases and makes it an excellent choice for shorter driveways.
Sectional garage doors offer automation and security features, unlike tilt-up garage doors.
Sectional garage doors come in insulated and non-insulated models. If you live in a harsher climate, you can buy an insulated sectional garage door to cut energy costs. If the weather in your region is usually mild, you can choose one without insulation for a lesser price.
Slide to the Side Garage Doors
Slide to the side garage doors open by bending to one side of the garage and resting parallel to the side wall. The door slides to the side using tower trolleys. These garage doors come with a retractable motor for automatic opening and closing.
Side-Hinged Garage Doors
The old-fashioned side-hinged garage doors work just like the large barn doors. These garage doors are usually made of timber but are also made from steel.
It helps to have a side-hinged garage door if there are obstructions in your garage or if its headroom is limited. To automate side-hinged garage doors, you can use special conversion arms.
Connect With A Garage Expert
Connect with local experts, Compare quotes, Get the best price.
Types of Garage Doors By Door Configuration
Garage doors come in three main configurations. Let's see what each of these configurations has to offer and whether it suits your needs:
Single Panel
The classical doors use a single-panel configuration consisting of a single panel/slab that slides up. Single-panel garage doors (like sectional garage doors) can be attached to a garage opener. But once you fit in the springs, you won't need a garage opener because you can operate them manually. The springs allow you to lift the garage door without using a lot of force.
Pros
Less upfront cost.
Easier to install because of fewer moving parts.
Variety in design and materials.
Offer a vintage look that sits well with both older and contemporary homes.
Cons
Extension springs can fail and cause damage to the garage walls, cars, and other items.
Not a viable option for smaller driveways and garages as it tilts and occupies garage space while opening.
Unlike sectional garage doors that may be dented in one section that needs replacement or repair, single panel doors usually need to be replaced entirely if they're seriously damaged.
Bi-Fold & Multi-Panel
Bi-fold and multi-panel garage doors are a modern alternative to traditional single-panel garage doors. These modern alternatives differ from the single-panel garage door in that their multiple sections fold into one side of the frame.
Unlike traditional garage doors that are either fully open or closed, you can partly open bi-fold panel garage doors. The multiple sections fold into one side of the frame, allowing for partial opening. This can be an advantage for those with shorter driveways or limited space.
Pros
Provides extra space for shorter driveways.
Smooth operation and easy opening.
Appealing and modern aesthetic.
Easy to clean and maintain.
Come in a variety of styles, colors, and materials, such as wood and aluminum.
Additional safety features, e.g., safety brackets.
Cons
Costly to install in larger garage openings.
Frequently opening the door can take time and effort.
Privacy issues can occur.
Larger garage doors can occupy space when folded/opened.
Which Garage Door Type Is Best for Me?
Choosing the right garage door type can be a complex process that depends on various factors, such as your home's architectural design, the weather conditions in your area, and your budget. Additionally, the functionality and features you desire will also play a role in determining which type of garage door will best suit your needs.
To assist in the decision-making process, it is important to consider the following:
Desired Features
When choosing from multiple garage door types and designs, you should start by identifying what you want in a garage door. For example, a traditional or modern design may be suitable if you primarily use your garage as a parking spot or storage space. Consider a door with more insulation or natural light options if you use your garage as a workshop.
Once you have an idea of your garage door usage, it gets easier to decide what features you want in your garage door.
Homeowners using their garage as a parking spot would want more security and are better off with sectional garage doors made of timber, steel, or fiberglass. A side-hinged garage door works better for homeowners that frequent their garage.
Aesthetic Preference
Some people emphasize aesthetics more than others. Regardless, it's an important consideration when selecting your garage door, and that's because garage doors make or break your curb appeal and noticeably impact your property's market value.
When deciding your garage door's look, color, or design, you can't overlook essential factors such as surrounding weather, utility, or budget. Another important consideration is the overall architecture of your house.
While glass garage doors are gaining popularity owing to their eye-catching design and aesthetic appeal, they're only suitable for modern homes. Glass garage doors will look odd in a house with an old architectural design.
Similarly, some homeowners prefer the natural feel and elegance of wood. But if you live in a tropical region, a wooden garage door will soon rot and deteriorate due to frequent rain.
Some homeowners prefer the natural wooden texture but don't have the budget. Such people can opt for a wood composite that offers a somewhat similar look but come at a considerably lower upfront cost.
Durability
Durability is one of the most sought features for garage doors because garages usually have one of the most expensive possessions, i.e., cars. Various garage door materials and designs offer varying levels of durability, and you can decide which to get based on your budget and other preferences.
Steel garage doors are considered the strongest and most secure. But someone that lives in a safer neighborhood can opt for a glass garage door with a bit lower security but much higher aesthetic appeal.
Homeowners with kids can go for vinyl garage doors that are more dent and scratch resistant than steel to bear sudden impacts from footballs or other objects.
Upfront Cost and Budget
While deciding on the features and garage door aesthetics, you should keep a rough budget in mind. Sometimes all the features we want in a garage door don't fit our budget. In such cases, it's best to make compromises.
Let's say you prefer a wooden garage door, but its cost exceeds your budget. You can go for composite wood that looks similar but is cheaper.
Maintenance
While most homeowners are quick to consider the upfront costs, they, more often than not, need to remember the ongoing cost of maintenance.
Wooden garage doors look great, but maintenance-wise, they have a bad rap. A lot can go wrong with wood garage doors if you don't perform regular inspections. Wooden garage doors easily rot, warp, get damaged, and can get infested with pests. They also need to finish every few years, which adds to their ongoing costs.
Both steel and aluminum garage doors are low-maintenance, but vinyl garage doors require lower maintenance. Even if you scratch vinyl garage doors, you won't need to repaint them because vinyl has the same color throughout, so it's hardly noticeable. Moreover, any damage to vinyl garage doors can be fixed with ease and at a cheaper cost.
Climate (affects energy efficiency!)
Your garage door is part of your home's exterior and bears direct exposure to outside elements and the wrath of climate. Homeowners living in a tropical region would be better off with aluminum or fiberglass garage doors, while those living in a coastal area should go for vinyl garage doors.
Insulation becomes a must-have feature if you spend a good portion of the day inside your garage, especially if you live in a colder climate. In such regions, wooden garage doors become a decent option owing to their natural insulation. But you can also get a steel garage door with added insulation. Not only do such doors prevent outside heat or cold from getting inside, but they also save a lot in energy bills and dampen outside noise.
Final Takeaway
Garage doors are part of your home's exterior and can increase market value. That is why you must invest in an exceptional garage door that provides the desired functionality and fits the architectural aesthetics of your home.
There's a diverse range of garage doors available on the market. To avoid overspending on unnecessary features, keep in mind your usage, aesthetic preferences, climate, and budget, among other things, when deciding on a garage door.
Buying a suitable garage door after carefully considering your requirements ensures that it'll last for years.
Frequently Asked Questions
If you're still having doubts, here are our concise answers to some of the most frequently asked questions regarding garage door types:
Is there a standard size for garage doors?
The common standard single garage door dimensions are:
Width: 8 ft; Height: 7 ft
Width: 9 ft; Height: 8 ft
For a double garage door, the dimensions are as follows:
Width: 16 ft; Height: 7 ft
Keep in mind that standard garage door sizes can differ in different states.
Are garage doors hard to install? Can I do it on my own, or should I call a professional?
It's not easy to install garage doors. While a DIY project is possible, the results can be far from satisfactory:
Garage doors can weigh more than 100 pounds, and handling such a heavy object is no easy feat. Installing a garage door is tricky and usually requires help from others.
You'll need various tools such as a drill, wrench, level, and more. Unless you have all the required equipment, you'll need to rent or purchase these tools.
You should know the proper use of these tools to avoid injury and do a satisfactory job.
Improper installation, likely in a DIY installation, can lead to severe injury or damage to property, car, or other valuable possessions.
Compared to that, hiring professional help can save you a lot of hassle and time. Interestingly, if you factor in the cost of renting or purchasing tools and the time required, you'll find that hiring professionals to install your garage door almost costs the same as a DIY installation.
But most of all, when you hire a professional for the installation, you can rest assured that your garage door won't malfunction.
How thick should garage door insulation be?
The thickness of your garage door insulation depends on how much insulation you want. You'd want thicker insulation foams if you live in a colder climate.
Remember, the thicker the insulation, the higher its R-value. For example, an EPS foam board that is 1 inch thick has an R-4.5 R-value, while a rockwool batt of 1.5-inch thickness has an R-value of R-5.16.
Is replacing the garage door a good investment?
If your garage door is worn out without any hope of repair, replacing it is a good long-term investment. Since your garage door is a part of your home's exterior, a decent garage door increases its curb appeal. Homes with a better curb appeal are valued much higher on the market.
Not only does a new garage door increase property value, but it also provides better security for your loved ones and valued possessions.